The women represented in this collection, along with their male counterparts, rejected some of the old traditions and strict standards of art making and were instrumental in elevating ceramics to a recognized art form. They all pushed the established boundaries to explore and extend the limits of their materials.
Evan Quick and I are studio mates and have been friends for 40+ years. One day he described the project he was undertaking for Dimensions 2021 and asked me what I was going to make. I didn't know, but that evening, after much thought, decided to make a sculpture to honour the many women who were also trailblazers and made significant contributions to the development of craft in Saskatchewan.
I decided that they would all take on the appearance of an academy award-like figure in size and basic form, bear a resemblance to each artist and depict some aspects of their signature work, ideas, styles, etc.
Ann James had a self-proclaimed outspoken nature and was quoted as saying, "my work is my statement and if people don't like it, that's tough." Her work could often lean toward the dark side and was considered by some as grotesque, macabre, and could be easily dismissed. But, her goal was to challenge the 'beautiful' traditions of ceramics (ex. Royal Doulton fine china) and create works that were often rough, unglazed, and at first glance appear to be carelessly constructed and conceived.
The idea for the base on her sculpture was taken from an image of one of her 'coolport series' titled "Creepy Flowers #1". It appears to be a clump of deteriorating or decaying forms covered with menacing worms. Her dress, while feminine in shape and pattern is rough and the natural tendency of the clay is expressed with surface cracks. Ann was often seen and photographed smoking a cigarette. It was the 1960's and most likely another symbol of her rebellious nature.
She dealt with many feminist issues in her work and often addressed difficult subject matter relating to women's lives. Ex. "Bah, Bah Black Sheep," a comment on childbearing out of wedlock, found in the Mackenzie Art Gallery permanent collection. While she made strong statements about society's treatment of women, she often included a touch of humor, Ex. a dachshund dog observed on one of her images relating to women's sexuality, titled, "Tut-Tut" 1974.
Marilyn Levine moved to Regina with her husband Sydney in 1961 and while they were both equally qualified for a University job, it was Sydney who was hired. Marilyn wanted to keep busy so she enrolled at the U of R Extensions pottery studio and started her very successful career with clay. Her knowledge of chemistry and her artistic skills soon had her producing leather-like clay objects that were so realistic they begged to be touched to affirm their authenticity.
She made many purses, suitcases, boots, straps, etc. in her trompe-l'oeil style (deceive the eye style). Her clay sculptures of leather objects often looked well worn and cracked to suggest the life and lifestyle of the person who wore or used them. With this body of work, she developed a very successful international career.
In an official portrait she sits in her unassuming manner, like the woman she was, wearing a turtleneck t-shirt accompanied by her cat.
When Beth Hone and Ann James established the Hone-James Studio, they were instrumental in bringing together a group of people who shared a love of clay and a progressive way of thinking.
Beth Hone was a quietly powerful woman who made a difference to many women's lives in her community and beyond. She was involved in many global endeavors to improve women's lives. This global viewpoint is depicted in the image on her belly. She was a woman who was closely connected to nature, spirituality and the environment. The base on her form is a reference to these interests.
She was a feminist who encouraged women to love their bodies and refuse to take a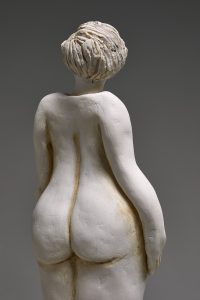 passive role. She was always ready to stand up and empower women, hence the Goddess form of her body. She holds a statue of the Venus of Willendorf, an image she embraced in her work and life.
The dandelion image with its seeds radiating from Beth's other hand is a reference to a poem illustrated by Mac Hone, Beth's husband, and written by Doreen Wuckert titled,
"The Dandelion and the Feminist."
What will I be when I am 50?
In my 50's I will become more spiritual and more feminist
In my fifties I will become more like the dandelion; sunny and beautiful.
The dandelion and the feminist have much in common.
Like the feminist, the dandelion can multiply even in the most adverse conditions.
The dandelion, like the feminist, has nutritional as well as healing properties
The dandelion need not be fertilized or cultivated to disseminate its seeds.
The dandelion, like the feminist, is considered a nuisance when visible in large numbers.
In my Fifties, I will observe more closely the tenacious behavior of the dandelion to develop more fully my feminist being.
Lorraine Malach sometimes used the facilities at the Hone-James Studio in Regina, the Connaught Library and the Hanson Ross Studio in Fort Qu'Appelle, to name a few. Hone said about her, "[Malach] was always working on her art and much of it was influenced by her religion. She devoted herself to her art. Her ceramic murals and paintings are located in homes and churches in Saskatchewan and beyond."
She was an independent woman who according to Wayne Morgan, "Made art every day and truly loved the artist lifestyle." Making money was not a high priority so she often lived in poverty as she went from one commission to another.
Her faith, paleontology and the natural environment were often drawn upon for her mural designs and are evident in the form and base of this sculpture. Some of her other major murals can be seen in the Sturdy Stone Building (Saskatoon), Holy Rosary Cathedral (Regina), and the U of R (campus) where the mural that informed her sculpture is located.
Her last major undertaking was at the Royal Tyrell Museum in Drumheller, AB where she designed and almost completed an ambitious mural entitled, "The Story of Life" in 2003.
In 1952, Maria Gakovic immigrated to Canada, leaving everything behind, as she and her husband escaped Yugoslavia. They settled in Regina and made a good life for themselves, but the memory of the immigrant experience was a stimulus for an important sculptural work she created that is part of the MacKenzie Art Gallery permanent collection.
Maria entered the U of R as a mature student in the 1970's and experienced many obstacles navigating the hallways during those times. (Another reason for the boat image.) She was strong woman who, at age 72, graduated from the U of R with a Master's of Fine Arts.
The use of coil construction for her skirt and the fluted edges on her blouse were techniques that she used in many of her works.
Jeannie Mah received an Education Degree from the U of R in 1976 and then went to study at Emily Carr University of Art and Design in BC. After further studies she returned to Regina and completed a BA in 1993. Over the years she developed techniques to produce clay sculptures that are delicately thin, extremely fragile and elegantly designed. She also developed a technique to transfer photographic images to her sculptures. Her internationally acclaimed works often are influenced by her self-identity, history of place, and the history of ceramics.
The base for her form is organic or pod-like and a strong contrast to the extremely smooth and controlled surface of her vessel form. In recent years she has been a powerful advocate for her community and has also been involved in writing and political lobbying. In 2021 she achieved the honour of winning the SK Arts Artistic Excellence Award.
Anne Mclellan states that she started making pots at the U of R Extensions Department to, "make a comfortable cup" and she has continued to study and produce her typically functional wares ever since.
She creates colourful and somewhat playful objects using plant and animal forms as references and decoration. The base of her form is taken from a fish sculpture she made in 2002. Her body is the shape of some newer vase-like sculptures she has displayed at the Art Gallery of Regina.
She states, "In my work, I look at the relationships presented in pottery forms, inside-outside, layers, symmetry, strong-fragile, line, color and decorative narrative."
Margaret Keelan moved to Regina from Saskatoon to study pottery and met her lifetime mentor, Marilyn Levine. When Marilyn moved to California Margaret followed. Margaret continues to reside in the US and produce her amazing figurative clay sculptures.
While she was in Regina, she made many provocative' women/bird' sculptures that reflected an interest in feminism and how women can be perceived. An example of one of those works is displayed under her arm.
Following in the tradition of Marilyn's trompe-l'oeil works, Margaret creates innocent nostalgic doll-like forms that appear to be made of weathered and peeling painted wood. Often an animal is included with in her sculpture and, in this case, a rabbit was selected.
Karen Dahl moved from Winnipeg to study in Regina from 1974-78. While there, she developed her own mixture of clay that was used throughout her career to make her highly realistic sculptures. She also made many molds of everyday objects that she used to create unusual combinations (ex: a chicken-legged wine glass).
She would cast, join, and juxtapose unlikely objects to create super realistic renditions of everyday objects in unusual settings. By doing this she could often elevate an ordinary object into a something precious ex. paint brush.
In an artist statement she says, "objects are the source of my inspiration, natural and manufactured. Things I grew up with and those I have collected voraciously over the years. My work incorporates these interests, as well as a fascination for detail, a touch of surrealism and a love of still life."
Anita Rocamora enrolled in classes at the U of R in 1973 and met a group of like-minded artists who decided in 1976 to move and set up North Star Studios near Humboldt, SK. In 1985 she developed her own studio Modern Artifacts in Meacham SK. In her studio she has experimented with many different clay bodies, materials, and finishes to produce a strong and divergent body of work that she regularly exhibits.
In many of her works she explores her environment and the shapes and textures of organic forms (ex: pods, seeds, gourds). In this tradition, a sculptural leaf form is represented for her base. Later she started using the human form in her work to explore ideas about humanity. The image referenced for her body is from one of her sculptural works.
As part of her artist statement she says, "I produce one of a kind sculptural vessels and sculpture, in clay and mixed media, about nature, culture and society. My work can be figurative, abstract, symbolic, humorous, or all of the above. I aspire to make objects that 'make sense' visually and physically, that present technical challenges, and carry a visual narrative."
Wendy Parsons and her husband Zach Dietrich began working with clay at the U of R and were so enamored with the processes and materials that in 1980 they decided to establish Parsons Dietrich Pottery in Moose Jaw, SK. Their son Devon has now joined the business and is adding new technologies and techniques to their processes.
An example of one of the delightful small decorative animals Wendy has been making her whole career is represented in the base of her form. Texture has been a prominent element in her work and is evident in the musk ox base and her pant design. Her teapots and containers often depicted fanciful and whimsical creatures as is recreated in her upper body.
Sandra Ledingham studied at the U of R and went on to develop a successful teaching career, educating students about clay and glazes while maintaining her own sculptural practice. She said that when she asked her mentor, Marilyn Levine, about her success, Marilyn said, "Keep on Working." Sandra is still following her advice. Sandra was a founding member of the SCC and received an honorary lifetime membership for continuous membership and support since 1975.
Architectural influences can be interpreted in her sculptures through her use of bright color, simplicity, and strong line and form. Sandra creates a graceful elegance and strength in her works though her use of sleek and smooth or rough and textural surfaces on her minimalist hand-built forms. These influences are all referenced in the creation of her form.
She states, "As this civilization and its cradle of origin spiral due to conflicts of interest, my interest in the modest material of clay and its origins of usage become even more meaningful to me. As workers in clay we should be proud we come from a fierce and pivotal material."
Artwork and article by Deborah Potter
References
Each artist's web page:
"Prairie Pots and Beyond: An Examination of Saskatchewan Ceramics From the 1960's to Present." Julia Krueger 2006
"Fertile Clay: Beth Hone, Spiritual Feminism and Women's Trans-National Activism in Saskatchewan." Kiera Mitchell 2020
"The Feminist Lens on six Female Ceramists in Regina." Julia Krueger – included in Regina Clay: Worlds in the Making. MacKenzie Art Gallery 2005